Why You Need a Breastfeeding Snack Station
---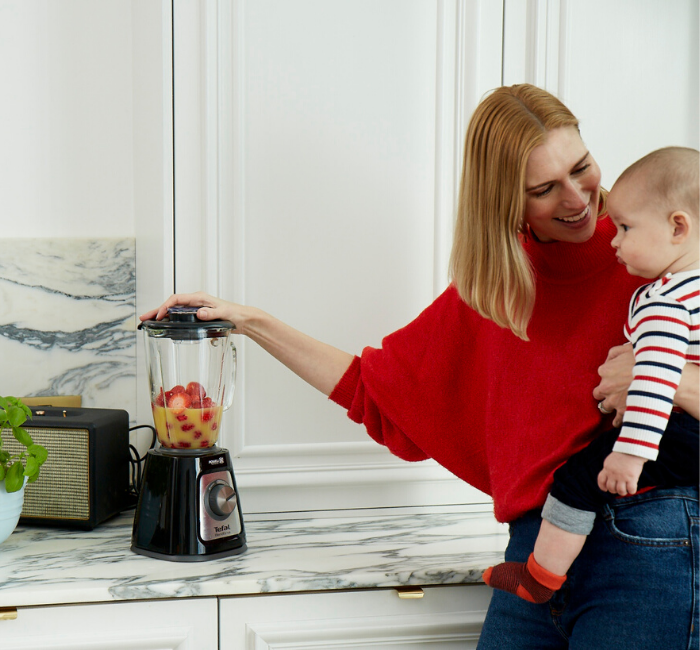 Newborn babies often feed for long periods of time, which means you might end up sitting in one position for a while. With a breastfeeding snack station, you can refuel with ease during longer feeds.
When breastfeeding, your body requires more energy than normal to support milk production. Put simply, feeding a baby around the clock is hungry (and thirsty) work.
---
Depending on whether you breastfeed partially or exclusively, your body can use an extra 300 to 500 calories a day. Whilst some of these extra calories are provided by fat stores laid down during pregnancy, choosing nutritious snacks and meals will help sustain round-the-clock feeding.
Preparing for breastfeeding
To help you breastfeed, set up a chair or place that you can sit comfortably for 45 minutes to an hour. Creating a breastfeeding snack box before you give birth ensures you won't have to go searching for food or a drink whilst holding a feeding baby. Newborns often cluster feed (feed frequently) at night. Your snack box can be on hand to refuel between nightly feeds or when changing or soothing your baby to sleep.
Ideas for snacks
If you are preparing a breast-feeding snack box before you have your baby, fill it with non-perishable snacks and drinks.
Non-perishable snack ideas for breastfeeding:
Portions of nuts including almonds, cashew nuts, macadamia nuts, brazil nuts
Toasted pumpkin and sunflower seeds
Bags of dried fruit including dried apricots, figs, prunes, mango and raisins
Dark chocolate covered almonds or other dried fruits and nuts
Small boxes of cereal or granola
Bite-sized crackers
Oat cakes
Breakfast biscuits
Individual portions of popcorn
Vegetable and fruit crisps
Plan rice cakes or those covered in chocolate or yoghurt
Roasted chickpeas
Spicy corn nuts
Chickpea puffs
Pitta crisps
Beef jerky or biltong
Sun-dried tomatoes
Energy balls
Protein bars
Granola bars
Peanut or nut butter portions
Small portions of olives
Bread sticks
Crispbread
Prawn crackers
Seaweed crisps
Marmite
Dates
You might also want to think about decanting snacks into easy to open containers that you can maneuver with one hand, or removing noisy packaging so you don't disturb baby if they're sleeping.
Another thing to remember is hydration. Producing breast milk is thirsty work, and once you're sat in position, getting up for a drink might be the last thing on your mind.
Ideas for drinks
Bottles of water
Long life bottles of chocolate milk or nut milk
Long life bottles of juice
Small bottles of flavoured tonic water
Iced tea
Protein shakes
Flavoured sparkling water
Tomato juice
Sugar and sweetener free sodas
Fresh and perishable items
In addition to non-perishable foods, there are some items that you may want to keep stocked in the fridge before you give birth.
Alternatively, if you have friends or family members offering to run errands, take advantage of their help and ask them to stock the fridge when you go into labour.
The food ideas below will help to ensure that you are getting plenty of nutrients into your diet when you are too tired to cook or even eat in those early weeks after giving birth.
Fresh items for the fridge
Yoghurt and Skyr
Quark
Hummus
Ready cut carrot batons
Mini cucumbers
Cherry tomatoes
Portions of mini cheeses
Apples
Bananas
Fresh fruit
Led by a team of maternal health experts, all women, mostly mothers, Biamother believes a healthy baby begins with a healthy mum. On the Biamother app find personalised guidance to help you eat, move and feel your best, as well as video workouts you can do at home that adapt to your changing body and needs. You can also chat one-on-one with your very own fitness coach. The app is free to download for 14 days on the Apple App Store (Google Play Store coming soon).